Thursday, August 14, 2008
"Cousin Olivia" came from Switzerland to visit her cousin who is living in the big city.She has a pure heart and her pureness is reflected in her fashion, too.She loves to wear bright colors that match beautiful sky in Switzerland.Her puff sleeves with pearl buttons and black lace-up vest have a cute ethnic taste. Her skirt has a lovely Swiss flower print for a fresh and cute look.The lacy white socks are sweet and delicate touches.
She has a fair skin and long straight hair that reaches to her knees.Her makeup is yellowish beige eye shadow with vivid pink blush and lips.She has a turquoise blue eye chips like the sky in Switzerland.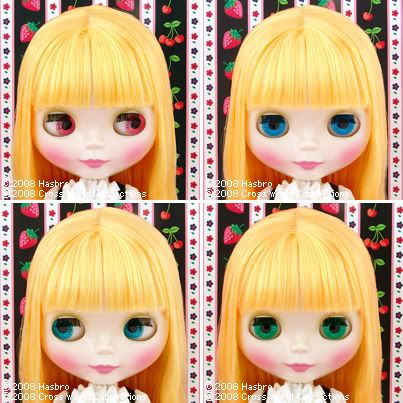 [ Face Type ] Superior
[ Skin Type ] Very fair
[ Makeup ] Eye shadow- yellow beige, Lips- coral pink, Blush- pink
[ Lip shape ] Stock
[ Eye Color ] Pink (right/stock), Blue (center/stock), Turquoise blue (left/special) and Green (center/stock)
[ Eyelashes ] Stock
[ Hair Color ] Yellowish blonde
[ The set includes ] Doll, blouse, skirt, headdress, vest, underwear, boots, socks and stand
[ Price ] 10,290 yen
[ Release Date ] September 12, 2008
~ photos and images from blythedoll.comI don't feel tempted by Cousin Olivia at all, for which I feel glad, because the Q-pot collaboration next Spring is going to empty what's left of my wallet. :p As for Olivia, Her hair is too yellow, her face too pale, her stock is rather blah, and I don't like her make-up at all.