Sunday, September 23, 2007
I haven't had a Blythe related post up in a while already - not because I lost interest, but because I haven't been to any of the Blythe forums (catching up is annoying when you have weeks of stuff to catch up for) and since I'm no longer in Japan (Y_Y) it's not like I'm always going to look at the new dolls at Junie Moon.
Anyway,
Ichigo
's post on upcoming dolls reminded me to check out dolls I want. I
have
to go down to Singapore to get at least one of them, some day. But by the time I get there they're probably all be gone? I have wanted
My Best Friend
since I saw the cartoon pic but the release date was 2 days after my return to KL... sigh, sampai sekarang masih sakit hati...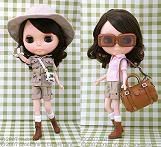 Then I thought I wouldn't mind getting
Save The Animals
instead, because I love dark-haired Blythes and I'm just in love with her hair. It's my dream to own two Lounging Lovelies - one to customize slightly and one to keep as is, although I doubt that's going to happen. Even finding ONE is hard, when you don't shop online.
Hello Harvest
is not really high on my priority list. I think my money is definitely safe from her, but I have to admit that she's really cute.

Dainty Biscuit
looks like a cross between Ichigo Heaven and Yuki no Namida Hime to me, but I still would love to have her. Her clothes are gorgeous, and I don't have any dolls with pink hair yet.
And the one that I don't think I'll ever be able to resist is
Cloud 9
which unfortunately is a Toys 'r' Us limited. I always love the Toys 'r' Us dolls, and Cloud 9 is one of the prettiest! I feel like taking up on Kishiko's or Murayama-sensei's offer and just ask them to get her for me. Actually, I
would
do so if I'm not saving up for other things. So all I can do is look at pictures online, and sigh. ://

On top of everything, the
Lorwyn
expansion is coming out for Magic and I want to get a couple of tournament decks at least, and lots of boosters, (not to mention I want to get more of the 10th Ed. ones) because I
really
need more cards.
And I don't think anyone wants to know how many books are in my "wanted" list so I won't start listing them...